Bralettes for the Busty and Knee Knowledge
Hi! I've been on vacation. But I'm happy to be back in your inboxes :)
A weird thing has been happening this month with grown men staring at my tits instead of maintaining eye contact during conversation. Like what are we 15-year-olds?! It's made me so uncomfortable I'm considering going back to bras, which I abandoned with relish at the start of the pandemic (and was never consistent about them anyhow). But motivation for this move annoys me, so who even knows if I will.
But while it's on my mind, I wanted to share one of my fave bralettes. As someone who's bustier, I've found the bralettes with the fit that I like best are those with a wider band. They're just a bit more supportive and aren't cutting int0 my flesh by the end of the day. For solid daily wear, I like this one from Jockey that I got at Target. I have the black, but I'm also considering picking it up in brown too.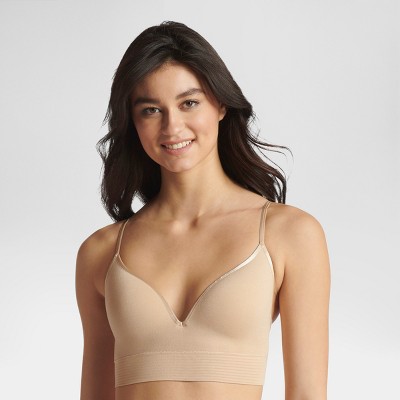 ---
And while I'm giving out recommendations, let's talk about my knees. Sometimes, I have this feeling in my right knee that isn't quite pain but like maybe one day it could be? I've been taking it more seriously as I've upped my workouts and I don't want to injure myself.
I suspected the cause was me being a side sleeper and the weight of one leg stacked on top of an other. When I have a problem, my first instinct is to purchase a solution. So, I started researching between the knee pillows. Well, somehow through this process I came across something that reminded me that basically your hips down to your ankles are all connected. As a writer, sometimes my hips get tight and stiff from so much sitting. I have to remember to stretch them. This made me think, uhm, maybe it's not pain, but just a lack of stretching happening?
I ended up doing many of the stretches I found on this site and now there isn't a twinge of anything at all happening in my knee. Prolly a great time to remind you I am not a doctor, so please don't do anything to injure yourself and discuss with a doc first if you need to. Besides, the point here is that sometimes the solution is simpler than we think it is.
---
I don't have any writing advice this week, but I'll be back at it next week <3
Enjoying these posts? Subscribe for more