It was in the Cards. Kind of.
I guess this is a Tuesday newsletter because here we are... Again.
Saturday, I went on a lengthy walk from my place across the bridge to a new tea bar ("And back?!" exclaimed one of my friends in the group chat and bemoaned my poor knees – My knees are fine). As I neared the tea bar, a man walking past me greeted me and I wished him a good morning in return. Then, as I turned to walk into the tea bar, he followed.
"Uhm, are you going in here too?"
"I am now. What's good to order?"
It was my first time, so I didn't have any recommendations. I was hot, sweaty and bit dehydrated and a little out of sorts by the events as they were unfolding. He offered to buy my tea, I agreed and he continued chatting me.
When we approached the counter to order the cashier asked, "Is this a first date? Wait... Did you all just meet? I thought that's what I was witnessing. OMG! This is a 'meet-cute' and I get to be part of it! This is so exciting!"
She was doing the most, y'all.
When we approached the counter again when our teas were ready, she shouted, "Don't forget to tag us on Instagram when you become a couple!"
We sipped our tea and walked back across the bridge. His neighborhood was near mine, but he'd driven. Despite the heat, he made the hasty decision to keep walking with me. Over a mile later, I stopped and told him this is where we'd part, not wanting to let him walk me all the way to my door.
During the walk, he'd seemed nice enough. He was here completing a master's program and would be returning home in a few weeks. We were around the same age and he'd been polite in his approach, so I said yes when he asked for my number.
I've been on a dating hiatus since June while I finish up my book. Cishet men can be emotionally high maintenance and I doubted I could handle that while also writing about all the emotionally high maintenance cishet men of years past. It's been the most peaceful summer. I've not wasted any time trying to figure out what's going on with someone, discern whether or not they're lying when I finally ask them what's going on with them and then partied too hard after things inevitably fall apart. Great for my heart and my liver and prolly countless other internal organs.
But Sunday, I finished my writing for day and decided to call the guy and see if he'd like to grab a beer. I pulled a few tarot cards first and drew the ace of cups and the chariot card, which both seemed to be in favor of my suspending my dating hiatus early.
On the date, I was a little unnerved that I caught him starting at my breasts more than once. Maybe it's because I haven't been on a date in a while or because I'm in my 30s, but it's just been such a long time since I've been out with a man who could not maintain eye contact. It felt juvenile and was a turn off.
Near the end of our second beer, he told me that his fraternity brothers tease him because they always see him with bigger girls, "But BBW, that's what I'm into."
I dunno, maybe don't share your fave porn category on a first date...? I just feel like it's weird to have a discussion about someone's body when you've never been closer than several feet to said body. Like we haven't even kissed yet, my dude. We wrapped up the date and when he called me the next day, I politely declined a follow up date.
I was talking to Austen about how I was surprised by what happened on my date based on the cards I pulled, but somehow I still felt like I'd made the right call even if I'd misinterpreted what the cards were trying to tell me. I don't regret going on the date, even if it wasn't a match, and I definitely don't regret not giving this guy any further chances. I was eager to get back to the peace I'd been enjoying during my dating hiatus. Seeing the wrong person doesn't make you feel any less lonely than not seeing anyone does, so why deal with additional stress?
Austen pointed out that I'd drawn the ace of cups and not the two of cups, so the card was likely about me and not about me and someone else. Essentially, I'd put myself first and galloped off toward better things in my chariot. So, maybe a meet-cute wasn't in the cards, but the cards weren't wrong in the end.
---
This week I'm working (among many other books), I'm reading the new Nichole Perkins essay collection, Sometimes I Trip on How Happy We Could Be, there's an excerpt in The Cut worth checking out. I'm always adding essay collections by Black women about our experiences with life and love to my bookshelf. And I'm reading a little of Tiana Clark's I Can't Talk About the Trees Without the Blood every night (Thx, to my friend Kristina for gifting it to me!) – and the cover of the book is one of the most gorgeous I've ever seen. Tiana Clark is writing about being a Black woman, multi-racial, in the South.
I just finished listening to the Tragedy of Heterosexuality, which if you're straight cis woman who's been feeling down about dating lately, this book will really speak to you. And I started Cal Newport's Digital Minimalism. I've been on social media hiatus since August 13th and I will continue until September 1st when I turn in my manuscript draft, so I figured listening to this book now will help me keep in my mind how much benefit I'm gaining from my time away.
I checked both out from the library for free using the Libby app. I love this app. It makes getting audio books SO easy and I'm saving a lot of money on them.
---
For a few years now, I've been on a bougie body wash kick. I want creamy, I want luxurious, I want to smell good! This is a daily affair, why not have the best? I was mostly dropping $25 on Sol de Janeiro's Brazilian 4 Play Moisturizing Shower Cream-Gel, which according to the URL, has a pistachio/caramel scent to it. It was also ultra moisturizing. Sometimes, I was using body wash that was even more expensive than that. But body wash lasts me a long time, so I had few qualms about pampering myself.
UNTIL, a few months ago, I was at Target, and I was in the same aisle the body wash is and I noticed this Dove Mango Almond Butter body wash.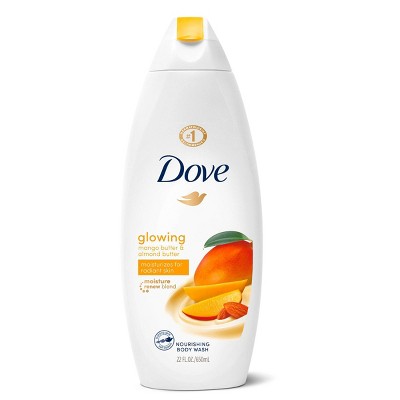 I'm a pretty big fan of mango and when I took a whiff of the body wash in the store, it smelled like they'd gotten the fragrance right. It was sickly sweet and didn't smell like soap trying to smell like something else – you know what I'm talking about. It just smelled like mangos and cream. I decided to give it a go.
I just bought my second bottle.
It's super moisturizing, the fragrance isn't cloying but is present enough to create a sensory experience in the shower. It doesn't leave me ashy or have that kind of waxy residueness to it that makes it feel like its sliding off your body instead of getting you clean. It doesn't take much to get your loofah nice and frothy. And the best part is it costs less than $7!!!!!
Enjoying these posts? Subscribe for more