Hello friends, I can think of nothing helpful to say this week about writing, but I will share some helpful things I've read by others.
Cinelle Barnes - "How Do I Write Amid Erasure?" for Catapult
Here Cinelle is answering the question of how to write about your past when so much of your past has gone undocumented or has been lost to time. She's speaking directly to individuals who come from communities blighted by oppression but the advice is overall helpful for anyone struggling to fill in the blanks of their nonfiction.
Laura Davis - "Writers Who Make Hard Choices?" for Publishers' Weekly
"When Ellen Bass and I published The Courage to Heal, a book that helped launch the incest survivor empowerment movement, it was 1988 and I was 31 years old. I was shocked when the book became a grassroots bestseller, catapulting me to fame for the worst thing that had ever happened to me.
During the years Ellen and I were writing the book, I was terrified about how my family would react. My fears were justified. When I outed my grandfather as my perpetrator, my already volatile relationship with my mother exploded, and I became estranged from her side of the family. Holidays and Mother's Day became painful reminders of the price I'd paid for writing the truth."
---
Two weeks ago, I tacked myself onto a friend's personal training sessions. I know I have a tendencies to want to go real hard right from the git go, but age + pandemic, has had me exercising extreme caution while... exercising. So, it's only right that I wrenched my shoulder something awful in my sleep the other night.
I was in so much pain, I did not attend a friend's baby shower and I spent of the day wondering what I could do to find some comfort. Last night was another restless night of sleep, but my shoulder is improving. I'm still babying myself though.
So, today I went sweet for lunch.
I bought this crème fraîche on a whim at Whole Foods last week. I've never used crème fraîche before and I had to Google a recipe. Martha Stewart had one with a little a crème fraîche and a sprinkle of powder sugar over strawberries. Sprinkling powder sugar is a bit tedious, so I swirled it into a dollop of crème fraîche and ate it that way. Because the crème fraîche I purchased is Madagascar vanilla very little powder sugar was necessary. It tasted like a quickie crème anglaise.
It's raining today and 74 degrees outside, which is the temp I keep my A/C at (I know, I know, but I have high ceilings, powerful ceiling fans and am mostly lounging around reading and writing, so it stays a comfortable temp). I turned off the A/C and opened the windows. Eating strawberries dragged through crème fraîche with fan-driven breeze and the scent of rain on the air – decadent.
---
This is silly.
Why should anyone pay $40 for this? At first, I thought, just use a regular cheap-o plastic paint palette, but then I remembered it'd likely leak and the lids don't always stay shut.
But couldn't you also just use a contact case? I generally throw out the ones that come free with the contact solution, but still somehow have tons just laying around. They're waterproof and hold about the same amount.
If you don't have any, Target  sells them for $1.49.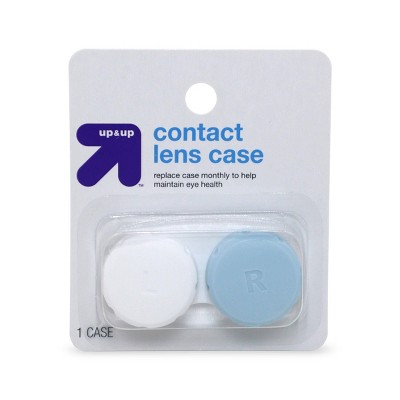 Enjoying these posts? Subscribe for more